OUR DEPLOYMENT OPTIONS
Workplaze offers both the scalability of Software-as-a-Service (SaaS) and the security of On-Premise solutions.

SOFTWARE-AS-A-SERVICE (SaaS)
Ease of Deployment
Implement single or multi-tenant solutions quickly with our SaaS model which require minimal maintenance and support from your organization's IT team.

Support & Maintenance
Workplaze's periodic product updates are deployed automatically to constantly provide you with the best features available.

Accessibility & Scalability
Access your cloud-hosted data anytime and anywhere securely. Our SaaS model can also be easily scaled up or down to meet growing business needs or to minimize wastage of resources.

Subscription Fees
Keep costs low through our monthly or annual subscription options.

ON-PREMISES
Security & Regulatory Compliance
With complete control over your data environment, enforcing regulatory requirements is comparatively easier. The high-level of security afforded is why our clients choose our on-premise model.

Flexibility on Customization
Our on-premise solution offers greater flexibility for enterprise customizations including greater control over how your data is processed, stored and presented.

Upfront Investment
Invest upfront for setup and hardware costs and enjoy lower on-going maintenance costs.
Technology & Security
High-level overview of each deployment types.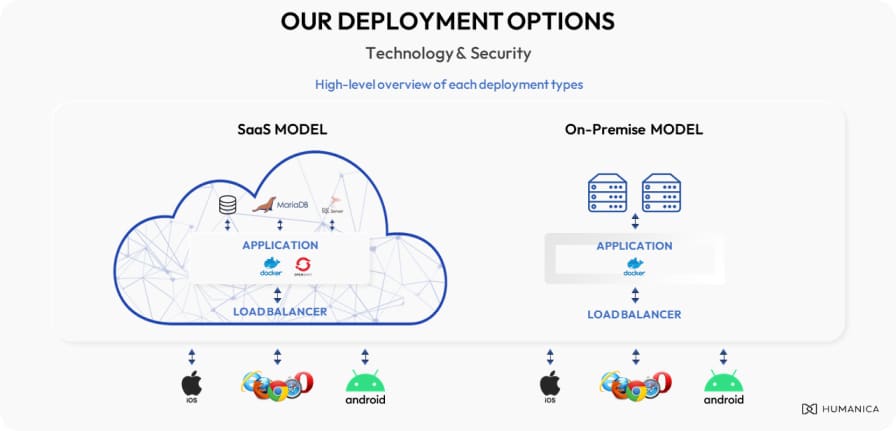 We Highly Recommend WorkPlaze SAAS
Cost-effective and highly compatible cloud delivery model
98%
…have plans for at least one form of benefit expansion

NO HARDWARE INSTALLATION
No physical servers and maintenance costs.

DATA SECURITY
ISO 9001 and 27001 certified data centers PDPA GDPR Compliant.

AUTOMATED UPGRADES & BACKUPS
Continuous updates delivering better performance.

SUBSCRIPTION-BASED MODEL
Lower upfront cost & predictable monthly fee.

SCALABILITY
Upgrade the system to accommodate your needs.

24* 7 ACCESSIBILITY
Access the system from anywhere via internet.
Ready to take the next step?
We have your back.