Organization Structure
Workplaze HR visualizes, manages and communicates your organization's structure to support mission specific requirements that enhance effectiveness.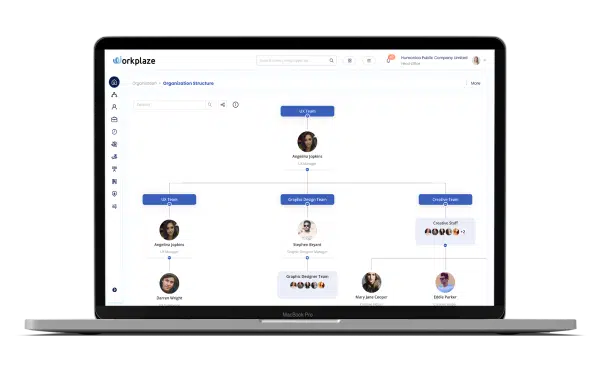 Slide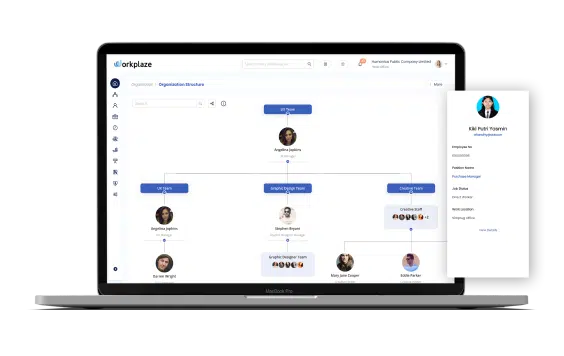 Slide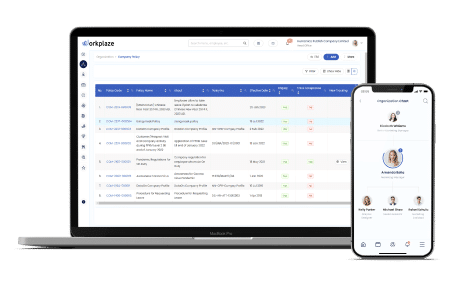 Key Functionalities of the Workplaze HR Organization Structure
Drillable, multi-format Charts
Workplaze HR supports traditional functional hierarchy, manager & supervisor relationships, temporary assignments, advisor/ position in neck (support of staff and advisors).
Versions and Future Dated Plans
Allows to track and review historic versions of the org chart. Users can create new structures for the future easily or use the export/ import function for offline planning.
With Workplaze HR, administrators can create, remodel and/or add org charts as often as necessary. Easy-to-use drag and drop tools help them to do so.
AI-Powered Content Creation
Create high-quality content for job descriptions with our conversational AI interface in a matter of minutes. The tools leverages relevant inputs and user-defined criteria, such as templates, position specifics, and reporting structures to auto generate detailed content that can be further edited and customized.
Easily manage daily, weekly or other periodic announcements to communicate company or group wide activities and happenings. Once approved, announcements are visible on each employee's homepage and/or mobile app.
Allow HR teams to release new or changed company policies, regulations, and other information transparently online with a few mouse clicks. Timely update additions and avoid having to answer endless inquiries.
Create a fast track to productive work and a strong employee relationship with the Organization Structure Module in Workplaze HR
The organization chart in Workplaze HR helps employees to learn names and titles of their colleagues. Additionally, it gives them a clear understanding of their position and how they fit into the overall company construct. The org chart is a great resource to see who everyone is with photos, profiles, job description and reporting structures. Transparency and communication are key for everyone working together within a complex organization.
In the daily operation, keeping track of all the positions in a company including required skill sets isn't easy.

The org chart feature allows companies to keep an eye on their people and ensure the right talents are in the right positions. If not, the org chart lets managers easily monitor vacant and under-performing positions. Thus, it improves their ability to plan position fulfillment and succession for the entire organization.
Workplaze HR allows companies to visualize their organizational structures reflective of the way they operate. Designed for flexibility, companies can remodel and adjust their structures as their business grows and/or requirements change. Users can reduce organizational risk by building independent templates of different organization structure versions that anticipate future reorganization scenarios. This enables them to apply the changes when they actually occur.
Hear it from them
Workplaze HR and its predecessors are trusted by over 5000 great companies – in every industry, some small, some large, some operating locally, some internationally – each of them unique. Working side by side with so many different customers supplies us with a wealth of knowledge and experience that we put in the constant innovation of our technology. This is our way of honoring our commitment to prioritizing customers' needs and to continue to deliver value for decades to come.

"Workplaze HR is the suitable system for Goodyear's current and future needs. Basically, the selection process at Goodyear is long & complex. It involves regional and global parties from various IT functions. So they all ensure the vendor has trusted ability, high level of security, and is able to support our needs. But SunFish HR has proven its ability to pass our selection & audit processes as a safe, reliable system with good quality and flexibility. Equally, it meets our company's needs with its user friendly features."

"Before using SunFish Workplaze HR, we processed the attendance manually. However, needing to recap the data one at a time, was extremely time consuming. Since we are using SunFish HR, we are able to manage the data efficiently, and the data storage is centralized."

"Since using Workplaze HR, the benefits are significantly. I.e. the payroll calculation process that is easier and faster. Likewise, the attendance data recap is easier. We only need to download it from SunFish HR. Moreover, the leave request process can be done anytime and anywhere. The user interface does not confuse the user. And lastly, SunFish HR has a support team that is always ready to help us."
– Dodi, Ass. Payroll & HRIS

"Since Workplaze HR is being used live in our company, employee administration processes such as overtime and leave administrative have been easier, faster, and more efficient. That is because of the systematized process of the Workplaze modules themselves. Similarly, the Payroll calculation done in-house provides accurate result without the interference of any third-party. Moreover, it can be validated immediately which minimizes miscalculations
Ready to take the next step?
We have your back.
Send us a message, our team will contact you to schedule a demo.