Bangkok and Jakarta, January 30, 2023. Humanica and DataOn merged at the end of 2021 to achieve our common goal to transform the HCM market landscape in Southeast Asia. We spent the first half of 2022 to put our products, Humatrix and SunFish, together, our strengths in technology innovation, market know-how, and 20+ years expertise to develop a brand new, next-generation HCM solution. The result of this joint effort is our new flagship product Workplaze HR (in Indonesia named SunFish Workplaze), whose release we proudly announce today.
Workplaze is an employee-centric HCM Platform that integrates tools to effectively manage all aspects of the employee lifecycle. From digitalization of employee records, payroll, talent management to HR as a Business Service Partner. Everything, including new work trends and work relationships is managed in one single platform as a single source of truth.
However, Workplaze goes a step further. It embeds these traditional HR features beyond the managerial focus in a work-life digital platform that is centered around the experience, interest, and needs ALL stakeholders in the organization have when interacting with HR software. It comes in a modern app style firmly rooted in a B2B2E set-up that engages all employees, and thus, helps to drive software adoption across the company. 
From a technological side, Workplaze is built on a microservice architecture and a front and back end separation for easier maintenance and faster releases of upgrades. The solution also adopts the latest UI frameworks and each major process is carefully designed with a focus on UI/UX.
A lot of thought went into the development of Workplaze. Working in conjunction with our clients, following the latest advancements in technology, future of work discussions and new HR concept. That's why Workplaze is able to offer many big and small innovative features. These features are to bring a real, meaningful HCM solution to organizations will support them today and into the future. 
A closer look at Workplaze
Here is a brief introduction of the innovations. Workplaze delivers to help companies build a future-ready and agile HR while providing a personalized user experience: 
User Experience and User Interface Innovation of Workplaze
Workplaze's front end design language is based on the Ant Design framework to support data consistency while allowing a modern, optimized user experience and the attractive display of specialty content. 
1. Responsive Design
Workplaze has a modernized look and feel to it with embedded analytics in pages. It's designed for mobile first and allows full feature access on various device sizes including Mobile, Tablet and PC.

Responsive Design of SunFish Workplaze
2. Easy to Use
The Workplaze Interface is designed to support ease of processing and access to information with a focus on highly interactive users.  Infrequent ESS and MSS users will typically access functionality through the mobile app, but may also access Web interface for more complex analytics, processing or data retrieval. 
In-depth analysis of user experience
Through analysis of the existing user base we are able to determine common usage workflows and optimize processes for improved user workflow, faster data entry and a relegation of less relevant data from high usage pages.
Designed for user workflows
User navigation is optimized to workflows, allowing users to move between records in accordance with workflow or to continue to the next expected processes without navigating through the main menu.  For example during mass data updates of adding, for example, education data, the user can complete the update and move to the next employee record without returning first to the master list of employees. 
Additional sorting and filtering options are added on list pages throughout the application.  This supports in-app simple analytics without the need to access reports or BI tools for common data.  Additionally, the advanced sorting and filtering expedites data access when performing updates and allows users to save pre configured data views to further improve their individual workflows.  
Different users require different views of data when performing analytics or updating information.  Users can configure list pages to show/hide data relevant to their workflow.
Design Components and Design Language
Standarding UI components are implemented application wide to improve consistency of views while also supporting improved user interface for data validation, lookup selection, date selection, etc.
3. Easy to Learn
Sometimes the number of options and complexity of certain processes presents challenges to new administrative users. Therefore, complex processes such as scheduling, attendance data management, payroll, performance planning and claims administration have been developed development with the following focus:
Configurable, Guided Processes
The configuration and data entry for complex processes is centralized in one screen, which guides the user through a step by step approach to the work.  These processes retain the ability to adjust sequential workflows through configuration. 
Focus on common or frequently use function
The majority of users follow similar, often best practices based, workflows and utilize similar options. Workplaze provides a variety of options to support unique customer requirements, however, the number of these options may appear irrelevant to most users and even slow their workflow. The design was revised to focus on providing common and standard items in the forefront and relocating less common functions to advanced views.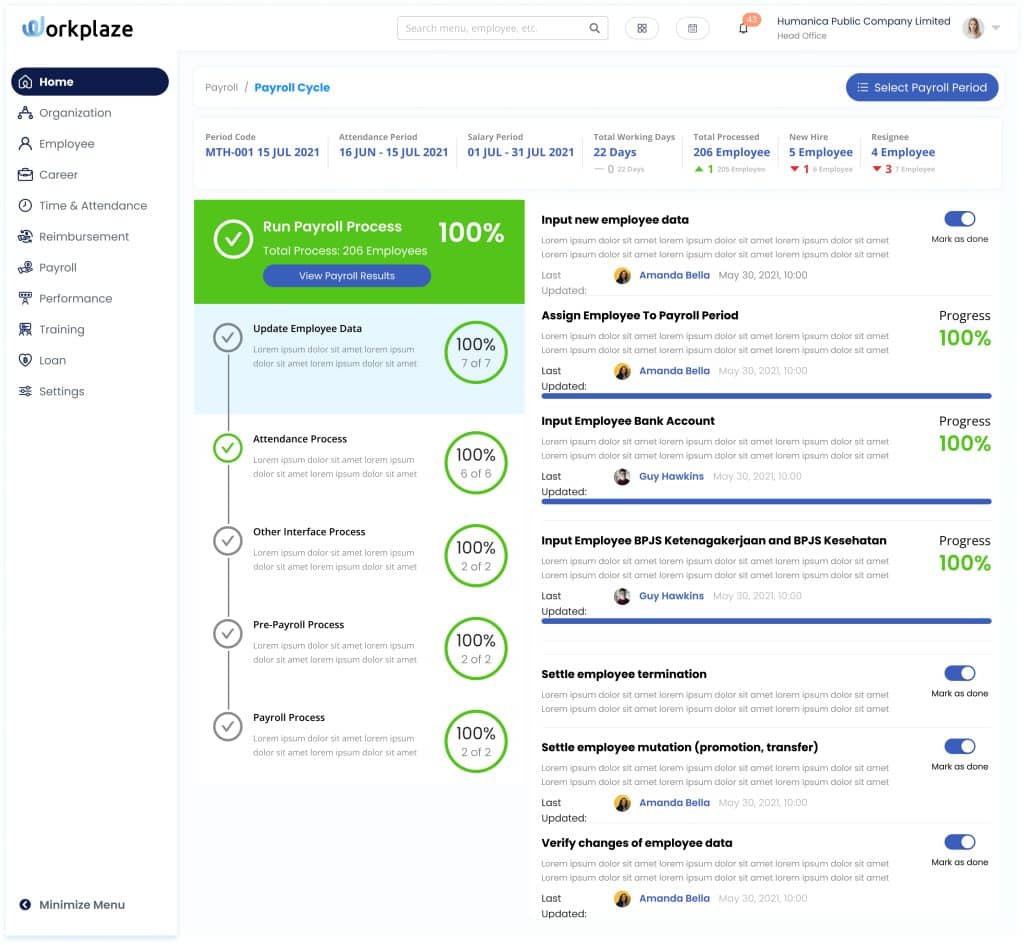 4. Pre-built Content
Traditionally, the system was shipped with minimum levels of preconfiguration, so implementers can import relevant configurations for each client. Sometimes, customers find this approach time consuming. Workplaze embeds pre-built content and provides for advanced libraries of common configurations to be pre-set in greater detail.  This includes libraries for common employee administrative work such as work contract, shift plans, leave policies, etc as well as pre-built content for KPI's, performance appraisals, job descriptions, competencies, training plans, etc. 
5. Reminders and Notifications
Workplaze includes a variety of pre-configured notifications and reminders for workflow approvals, and exception reminders. Both are merged into a single inbox concept which will be pervasive across mobile and web versions. The interface supports mass approvals, resolutions, filtering and other functionality while also improving notifications of new inbox content through browser based pop-ups and email reminders.
Functionality Innovation of Workplaze
We understand that organizations require real solutions that have a meaningful impact on their organization and that often small innovations are as important as major technology advancements. In Workplaze, we provide both, the highlights being:
1. New OKR functionality
Ability to manage and plan performance using Objective Key Result methodology including advanced planning of objectives and breakdown to key result targets and actual achievements.  The OKR functionality enhances the Performance Management evaluation items of KPI, Competency, Appraisal, Tasks, and Feedback. Workplaze OKR provides a processes based framework for mapping Objectives, targeting and assigning Key Results, continuous tracking and updating of Key Results and period based evaluation finalization which is fully integrated with other Workplaze performance management aspects and employee development functionality.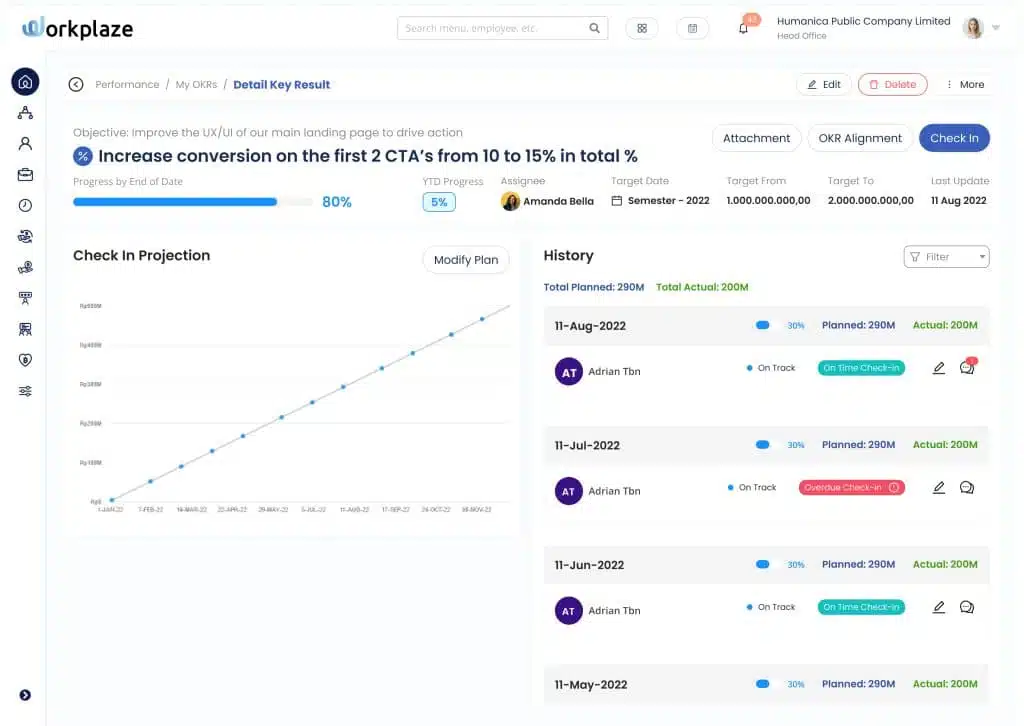 2. Redesigned Simple Performance Management
Workplaze includes both simple and advanced performance management functions. These functions are independent.  Simple performance management is typically used for general employees that require less comprehensive data collection, analysis and development.  Advanced performance management is typically used for professionals and management employees and provides multiple aspects of highly configurable methods of employee evaluation and is automatically linked to other talent strategy and planning tools. This approach takes more time to configure and execute. 
The new simple performance supports less complex processing requirements for certain employee levels while still allowing complete data integration. It creates an improved hybrid of the two systems allowing greater flexibility in the definition of the performance management approach to multiple levels of the organization. It also provides improved support for evaluations conducted on mobile devices and comes with a step based guide approach for the configuration and evaluation processes.
3. New Online Recruitment
Workplaze Online Recruitment application will provide for better customer website integration, easier to integrate to centralized recruitment services.  Responsive design for better use on mobile devices.  Discussion tools to communicate with applicants.   Interview scheduling.  Applicant pre interview testing.  Automation of offering letters and integration to onboarding.  
4. New Recruitment Management
Best practice recruitment and applicant tracking system for optimal processing workflows and excellent presentation of applicant information for analysis.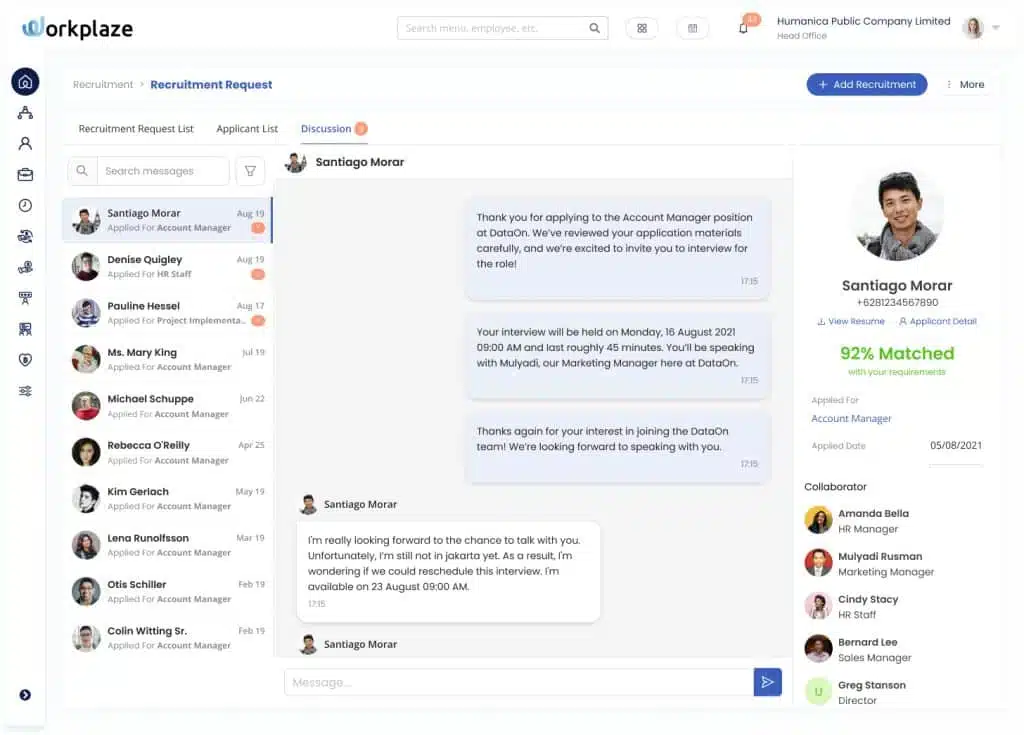 5. New Shift Scheduling Tools
The new shift scheduling tools facilitate better communication between managers and employees when scheduling ad hoc shift changes.         
6. Shift Swap
Functionality to allow employees to exchange shifts with other employees with or without supervisor approval.
7. New Attendance Tracking Interface
The new attendance tracking interface allows comprehensive insight into attendance data, analysis of attendance issues and easy resolution from a single screen.        
8. New Claims Manager
The new claims interface simplifies management of all claims and allows managing approvals in a Kansan style interface.  This interface combines multiple different pre-existing options for claims and reimbursements into a simplified, centralized process.
9. Employee Calendar
A centralized calendar view for employees and managers from which they can identify any problems and directly make adjustments to schedules.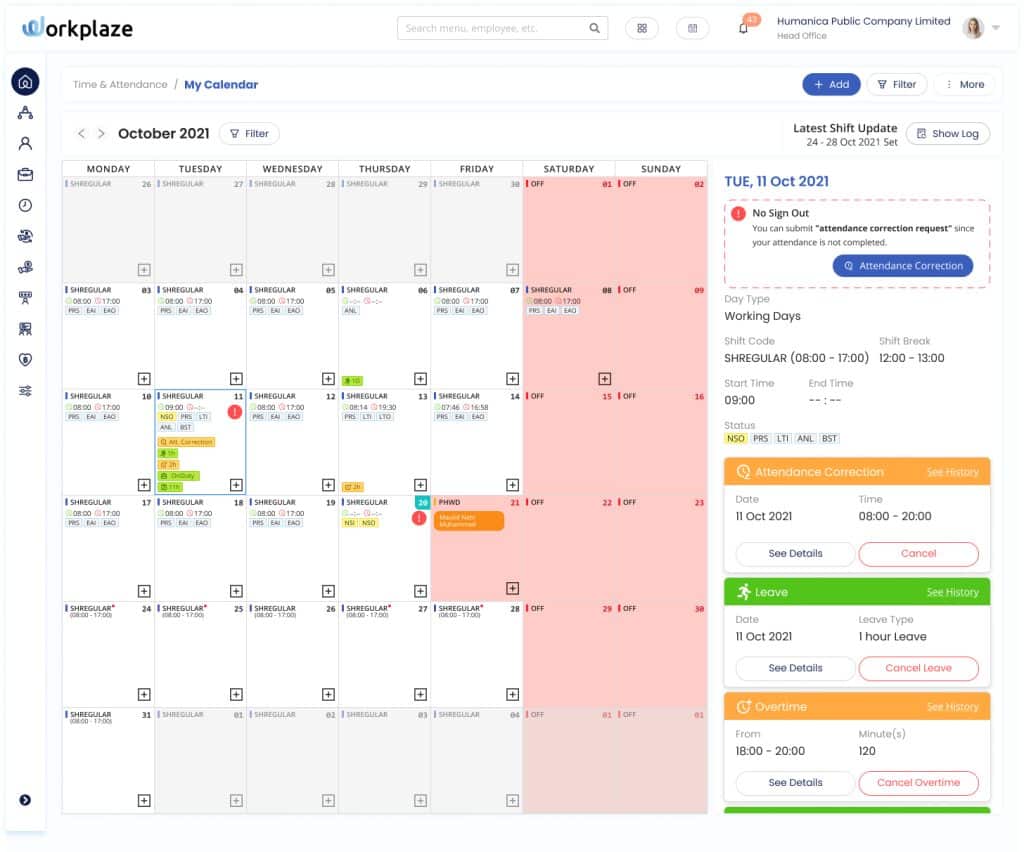 10. New Request and Notification Inbox
The new request and notification inbox to improve resolution of notifications and request approval processing including new alerts engine with browser alerts.
11. New Organization Charts
New org chart views to allow for presentation of more complex information in a more easy to navigate format when working with large data sets.
12. Central Payroll Process Manager
Payroll manager provides a centralized view of payroll data and easier flow through the payroll process including revisions with a single interface.
13. New Payslip views
Employees can view more details on pay information where the system dynamically hides confidential information
14. Employee Information Views
Changes to views of employee information to allow improved navigation when performing massive data changes as well as provide better analytical access to employee data.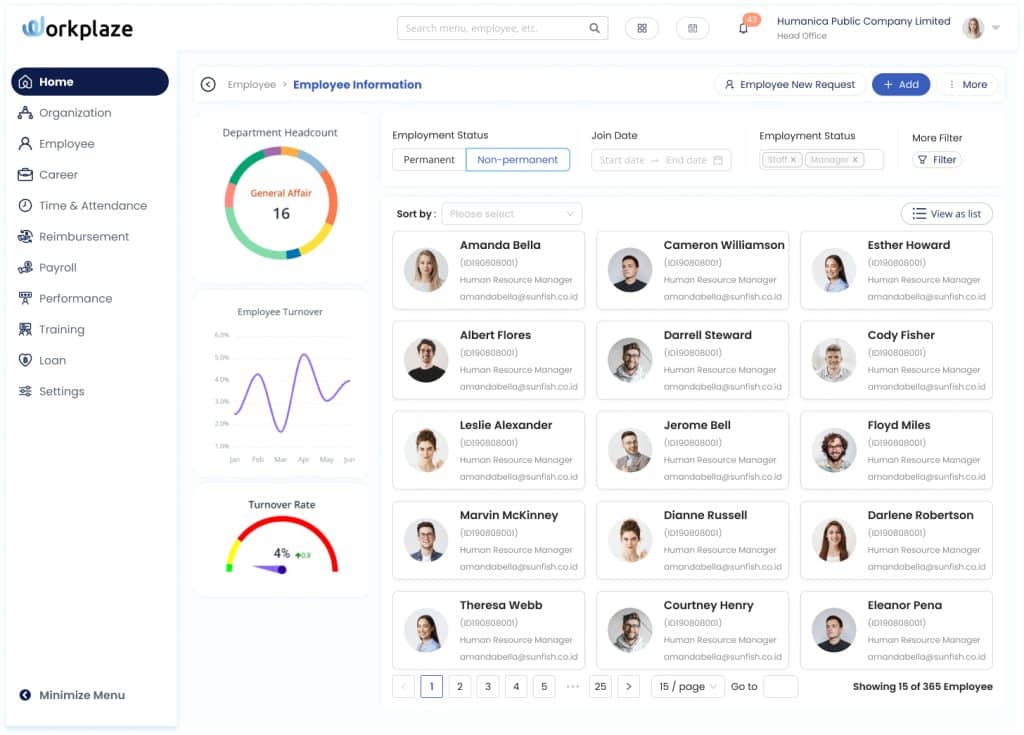 15. Resource Booking
Functionality for employees to book shared resources such as cars, meetings rooms, laptops, etc
16. Localization
Tax and mandated contribution processing and reporting including local language support for Thailand, Malaysia, Philippines, Singapore, Vietnam, and HongKong.
Modular Approach. Our solutions help companies to seize opportunities as they arise and grow at their own pace, without having to constantly reinvent your processes and systems. Our products are formed around the business rather than changing the business to comply with the products.
Global Support. Our solutions are well equipped for global business. Flexible features such as multi-currency, multi-language and multi-legislation allow you to offer great services across all borders.
Future Ready. We use the latest technology in the development of our products, thus ensuring excellent stability, performance and continuous innovation. Whenever we launch the latest version of our products, we offer our existing customers upgrades to their solutions' newest versions
With our over 20 years track record in HR service and project engagements and a loyalty rate of 97%, Humanica and DataOn are competent, professional and reliable partners who always protects customer investments in their technology through rapid implementation and cost-effective solution that meets organization's immediate needs and long-term expectations.
For More Information about Workplaze
If you wish to learn more about Workplaze, visit our websites www.humanica.com and www.dataon.com or follow our social media accounts.
 If you wish to see a demo of Workplaze, contact us here for Thailand www.humanica.com/en/contact/  and dataon.com/contact/ for Indonesia. You can contact our offices through this page as well.