Jakarta, October 2023 – DataOn Humanica, a leading HRIS service provider in Southeast Asia, is all set to host its 13th Annual HR Conference on Thursday, November 2, 2023, at The Tribrata Darmawangsa. Under the theme 'Crafting an inspiring, human-centric workplace,' this year's conference will place a spotlight on the latest HR trends, including AI, and human-oriented workplace dynamics. This event is expected to draw an audience of more than 800 HR professionals, IT specialists, and entrepreneurs seeking the most up-to-date insights in the HR domain.
A Glimpse into Modern HR Practices
In the world of HR, technological advancements and the ever-evolving workplace environment are integral and inseparable components. Through this event, DataOn Humanica aims to encapsulate the essence of modern HR management, enabling the audience to engage in insightful discussions to create workplaces that prioritize humanity, empathy, and inspiration.
As in previous years, DataOn Humanica's Annual HR Conference will bring together renowned HR professionals from various industries to share their visions and experiences. This year, the conference will feature two keynote speakers, Gojek's CPO Herman Cahyadi and IBM Indonesia's HR Country Manager Husein Samy. In addition, we are honored to have the Deputy Minister of Manpower of the Republic of Indonesia, Afriansyah Noor, who will grace the event with his opening address, shedding light on the pivotal topic of Indonesia's human capital situation. Joining them, our distinguished panel of speakers will share valuable insights tailored to their individual areas of expertise.
A Comprehensive Agenda for HR Transformation
The conference is divided into four engaging and educational segments. Beginning with the Employee Experience, Engagement & Business Performance segment, the audience will gain a comprehensive understanding of factors that drive employee engagement and growth, delivered directly by DataOn President Director Gordon Enns and the Chairperson of the Human Resources Association Bali, Vira Risnayani.
DataOn Humanica's 13th Annual HR Conference presents a comprehensive agenda that will equip participants with the knowledge and tools needed to create a workspace that supports employee development, ushering in a new era of work that prioritizes the human experience above all.
Championing HR Transformation Strategies and Success Factors
In the next segment, Championing the HR Transformation Process, the audience will receive comprehensive information on strategies and success factors for a seamless HR transformation by empowering HR teams to maximize the capabilities and benefits of technology. Prominent speakers in this session include IGA Ety Setiawati, HR Director of Jumeirah Bali and Akshat Joshi, CEO of Humanica Consulting.
As businesses expand, the demand for a more comprehensive and integrated people management strategy intensifies. Our segment, HR as a Shared Service Provider, is dedicated to addressing the challenges faced by large companies in managing their geographically dispersed workforce with integrated HR departments. With the aim of streamlining HR functions and ensuring a cohesive employee experience, Herman Cahyadi, Chief People Officer of Gojek, will present innovative solutions to bridge the gaps in HR management across various locations.
No HR conference is complete without an in-depth discussion of this year's hottest topic: Artificial Intelligence (AI). In the AI in HR segment, Husein Samy, HR Country Manager of IBM Indonesia, will explore the transformative role of AI in HR, highlighting current trends and real-world AI applications that are increasingly enhancing productivity.

Read More : Employee Self-Service: Streamlining HR Processes and Empowering Employees
InspireHR Awards and Interactive Exhibitions
This year, we have two award categories: Excellence in HR Change Management and Excellence in HR Innovation. The Excellence in HR Innovation Management award recognizes companies that have implemented groundbreaking HR practices, while the Excellence in HR Change Management award celebrates companies that have demonstrated remarkable leadership during times of change, crisis, or complex technology implementations. Both winners of DataOn Humanica's first-ever InspireHR Awards will be revealed exclusively during the conference.
Another highlight of our conference is the debut of our inaugural InspireHR Awards. As part of our customer recognition programs, we are introducing these awards to celebrate our customers' vital role in our success.
In addition to everything else, attendees will also get to explore our vibrant exhibition area, with a wide array of interactive booths. From the hands-on experience at DataOn's Solution Showcase to the entertaining gaming stations offering exciting merchandise, there are plenty of opportunities to engage, learn, and have fun.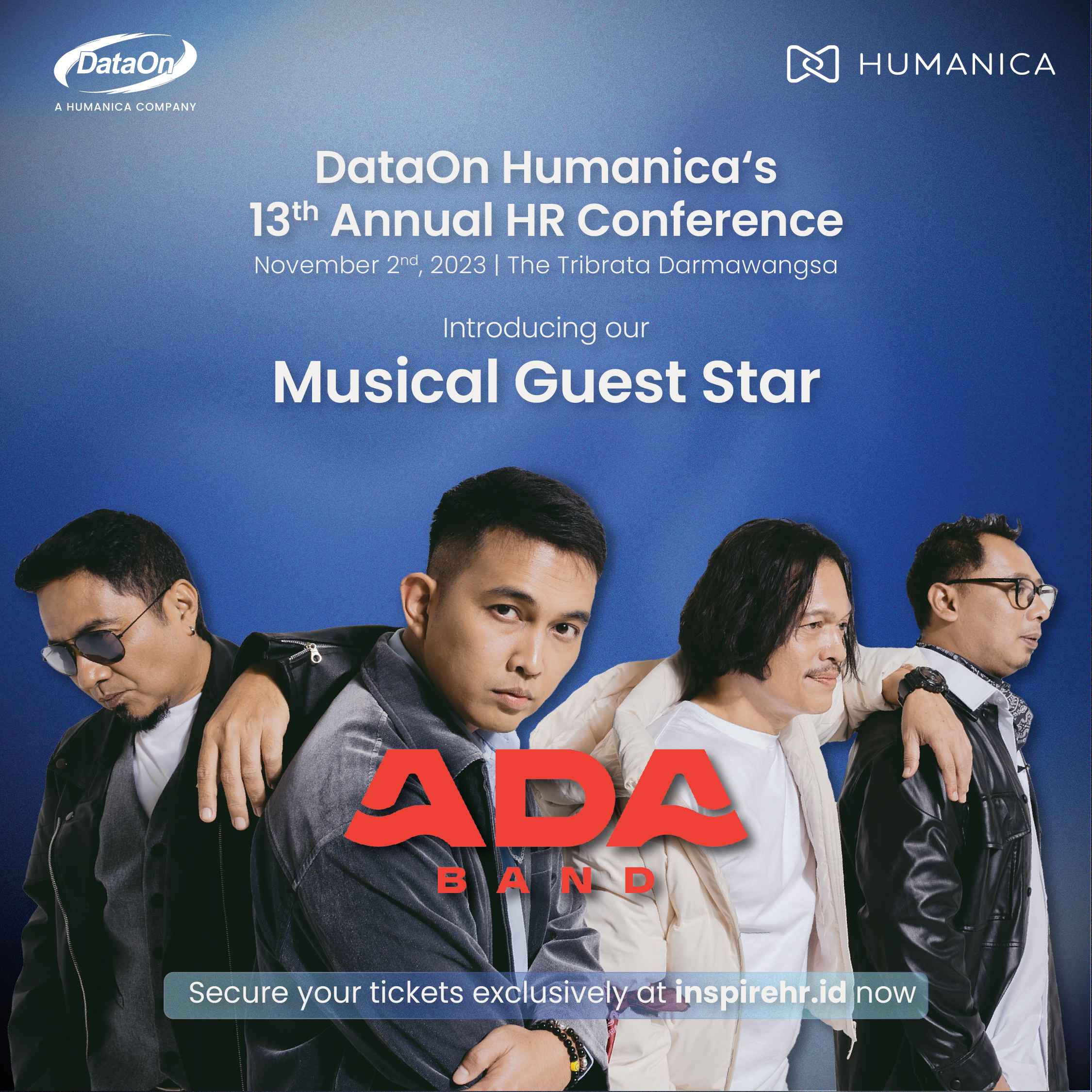 Unparalleled Insights and Networking: Transformative Experience Awaits!
But that's not all! Our DataOn Payroll Outsourcing booth offers more than just knowledge. Here, participants can receive free consultations for their in-kind taxation. And, thanks to our gracious partner, the Rumah Sakit Pondok Indah Group, they can also indulge in a free Body Mass Index check-up.
To add an element of excitement to this transformative event, participants will also have the opportunity to enjoy a special performance by ADA Band, captivating the audience with their exceptional musical talent.
This conference is a must-attend for HR professionals and anyone enthusiastic about creating employee-oriented workplaces. The 13th Annual HR Conference by DataOn Humanica promises to be a pivotal moment in Indonesia's world of HR management, offering unparalleled insights, networking opportunities, and the chance to be part of a transformative experience.

For more information and to reserve your spot at the conference, please visit inspirehr.id.
About DataOn Humanica
DataOn Humanica is a leading HR and Human Resource Management solutions provider committed to bringing innovative technology to empower businesses and enhance the employee experience.
For media inquiries and further information, please contact:
Arlyn Girsang
E: [email protected]
P: +62 818 0840 9141