DataOn, a Humanica company (SET: HUMAN), a Southeast Asian leader in Enterprise Cloud Applications for Workforce Management, is proud to announce the release of multiple new AI capabilities in its latest SunFish Workplaze version. Harnessing the power of AI, Workplaze revolutionizes how every stakeholder in the company interacts with HR systems unlocking new levels of process streamlining, and productivity while bringing unparalleled data insight and a completely new digital employee experience.
The new AI features, which will be showcased at DataOn's Annual HR Conference, are embedded across the whole SunFish Workplaze HR platform so that all system users within an organization – from individual employees to directors- can benefit from the new capabilities.
Embracing AI with Security and Trustworthiness
DataOn places paramount importance on data security, user privacy, and trustworthiness within the AI landscape. We view AI as an integral component of optimized human-technology interaction and combine the vast amounts of HR data within our HCM platform with reliable and contextually relevant AI and ML tools, all underpinned by our stringent security protocols.
Workplaze's AI-driven features empower users with swift content creation, meaningful and accurate data insights, and a more interactive way of accomplishing work, while ensuring that they retain control over their data, can apply their expertise and knowledge to confirm and tailor that content to their specific needs.
"We are excited to introduce these game-changing AI features that promise to elevate the way our customers work, " says Gordon Enns, CTO of Humanica Group. "Our AI solutions are designed to cater to the diverse needs of various user groups, delivering tangible benefits to each one of them by transforming their way of interaction with our software. We take pride in applying these valuable capabilities in a manner that aligns seamlessly with our enterprise-save and platform-centric background, unlocking new potentials for a smarter and more efficient approach to people management."
Some of the ways HR system users will benefit from the new SunFish Workplaze AI capabilities are:
AI-Powered Management Reports: Transforming Data into Actionable Insights
The AI-powered report generator enables HR professionals to quickly and easily create custom reports, using data from across their HR and HCM system. Users can effortlessly select data combinations and correlations from a wide array of metrics, including demographics, performance, engagement, turnover, attendance, pay, project management, and training data and have the system perform a complex comparative analysis of their chosen criteria and periods.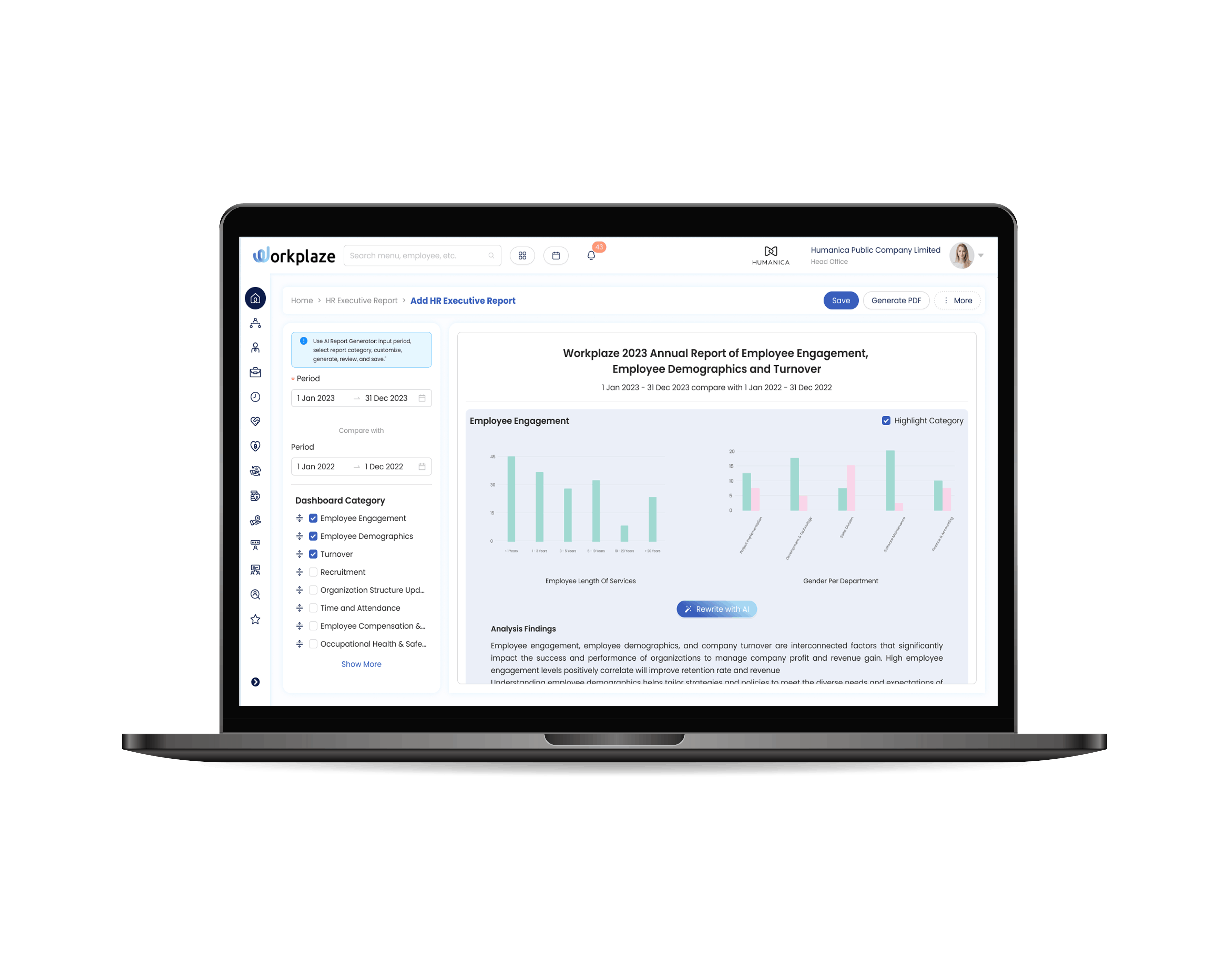 The result will not only include a visually pleasing data presentation but also a detailed written analysis of the data, highlighting problems and trends. Moreover, a conversational user interface is built into the report allowing users to interact with the system. They can ask more specific questions to drill into the data to be added to the finding results, or they can just use it to tailor the report as needed.

The system even goes a step further by auto-recommending action plans to address identified issues, enabling users to craft executive summaries that drive HR and people insights to top management.
Predictive Resignation: Proactive Talent Retention Strategies
In an era where retaining top talent is paramount, DataOn's predictive resignation feature harnesses the power of machine learning to analyze extensive employee and employment data. By examining productivity, absence, overtime, pay levels, and more, and comparing them with historical turnover data, the system is able to determine which positions, employees, and departments are at risk of resigning.

This insight into trends, correlations, and impact enables organizations to proactively devise strategies to retain valuable talents, providing them with a valuable edge in the competitive talent landscape.
AI Content Creation: Creating Content in a Matter of Minutes
Our new AI content creation feature simplifies the often time-consuming process of writing or updating HR and system content. The content generation tool is embedded in various SunFish Workplaze modules, including organization structure, recruitment, and goal setting.
With its help, HR teams can add or revise job descriptions, KPIs, OKRs, training syllabuses, and vacancy descriptions in no time. The system leverages relevant inputs and user-defined criteria, such as templates, position specifics, reporting structures, and performance targets, to automatically generate detailed content that can be further edited and customized. This innovation not only saves time but also ensures consistency in HR documentation.
AI- powered Resume Reader
SunFish Workplaze now embeds a powerful parsing tool to read CVs and extracts the rich text information with high accuracy into our Recruitment Module's format. Our system analyzes the parsed CV data against the pre-screening criteria for the vacancy to give you a proficiency match in no time.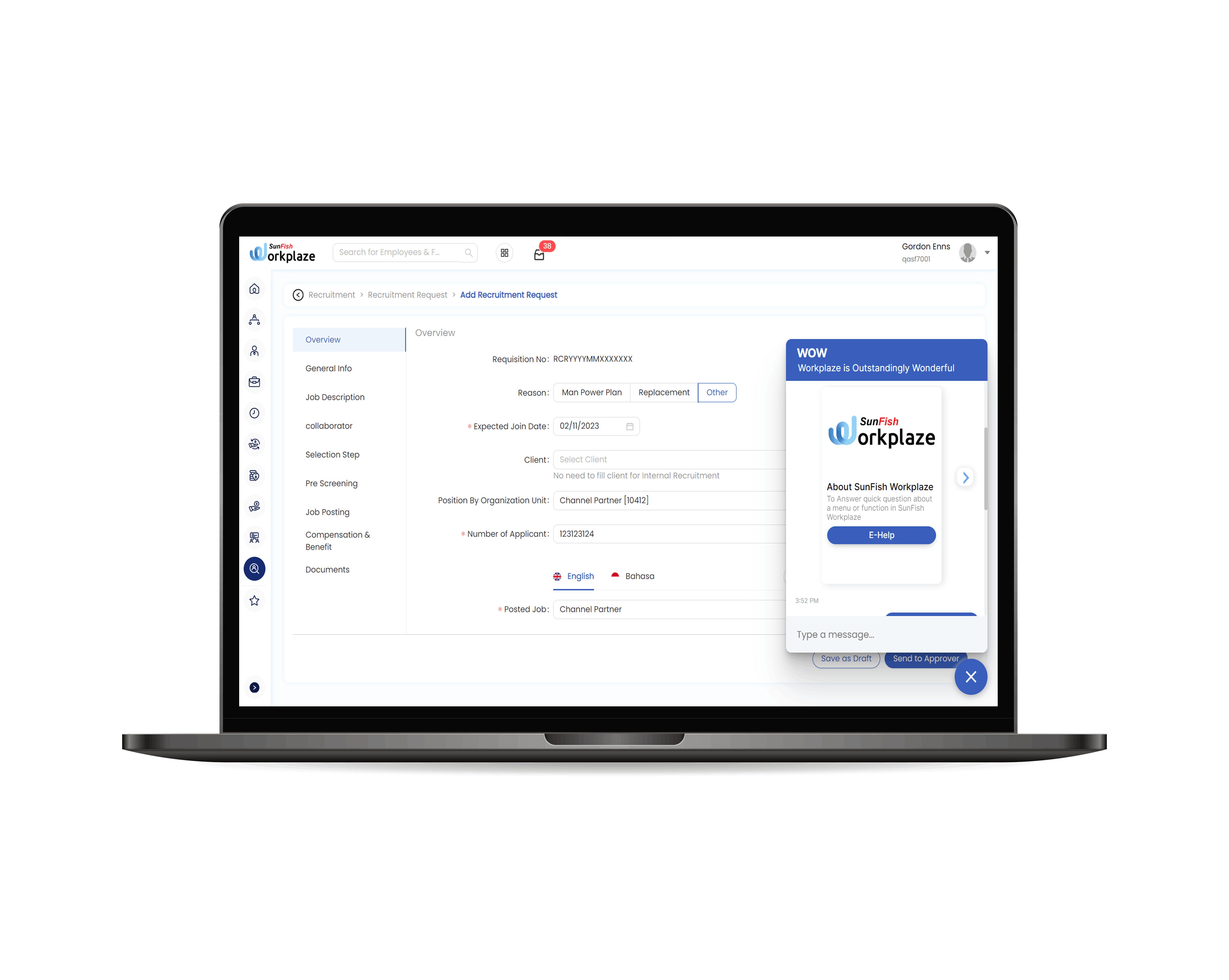 AI Assistant: Your Intelligent HR Companion
Built on generative AI, Workplaze's new AI features also includes the beta release of its AI assistant. This new advancement offers a seamless chat interface to access common HR functions and data including employee information, payslips, and requesting leave. As such the AI assistant serves as a valuable resource usable by all system users for answering their various different queries.
Individual employees may interact with the assistant to check their leave balances, company policy information, view payslips or request leave bypassing menu navigation and waiting for HR help desk support. Managers and team leaders, on the other hand, can use the AI Assistant to analyze project issues, salary increases, attendance concerns, turnover, and recruitment statistics, or to receive guidance on how to use system functions.
All users simply type their questions into the chat and the system will return the relevant answers and data. With each interaction, the AI assistant learns, evolves, and expands its capabilities, making it a powerful tool to enhance the user's ability to interact with their information and tasks.
Release Date
The new AI capabilities are part of an array of game-changing SunFish Workplaze enhancements and features that have been released at the end of the third quarter of 2023 to make organizations' HR processes even smoother, more intelligent, and highly customizable. We will unveil our new, exciting AI features at our 13th Annual HR Conference on November 2, 2023 at the Tribrata Darmawangsa, South Jakarta, and showcase how they support use cases such as job description, data analysis, knowledge management, and management reporting. We expect rollouts to customers to begin at the start of the next year.
Further Information
About DataOn
DataOn is a leading provider of Enterprise Human Capital Management (HCM) software solutions. Our fully integrated platform SunFish Workplaze enables organizations of all sizes to manage their workforce efficiently and make data-driven decisions for sustainable success in the ever-evolving business landscape.