In the ever-evolving landscape of HR management, getting things done fast while enhancing the employee experience is essential. That's why Humanica (SET: HUMAN), a Southeast Asian leader in Enterprise Cloud Applications for Workforce Management, today announces the release of multiple new tools, features, and functional enhancements in its Quarter 3 SunFish Workplaze product update. These new innovations empower our customers' users, of whom approximately one million are active daily, with even better tools and UI/UX to work smarter and more productively.
A lot of thought went into the development of these latest upgrades. In conjunction with our clients,  in line with the latest advancements in technology, and new HR concepts, Humanica's development team has worked tirelessly in the third Quarter to roll out 300 remarkable enhancements. Some are big, some are small but they are all designed to make organizations' HR processes smoother, more intelligent and highly customizable. These new updates, which will benefit all types of system users,  will be officially demonstrated at DataOn's 13th Annual HR Conference.
A closer look at the latest Workplaze Updates
Here is a brief introduction into the exciting new features that are set to transform the way you work on managing your people and HR tasks with Workplaze. We will start with the bigger ones: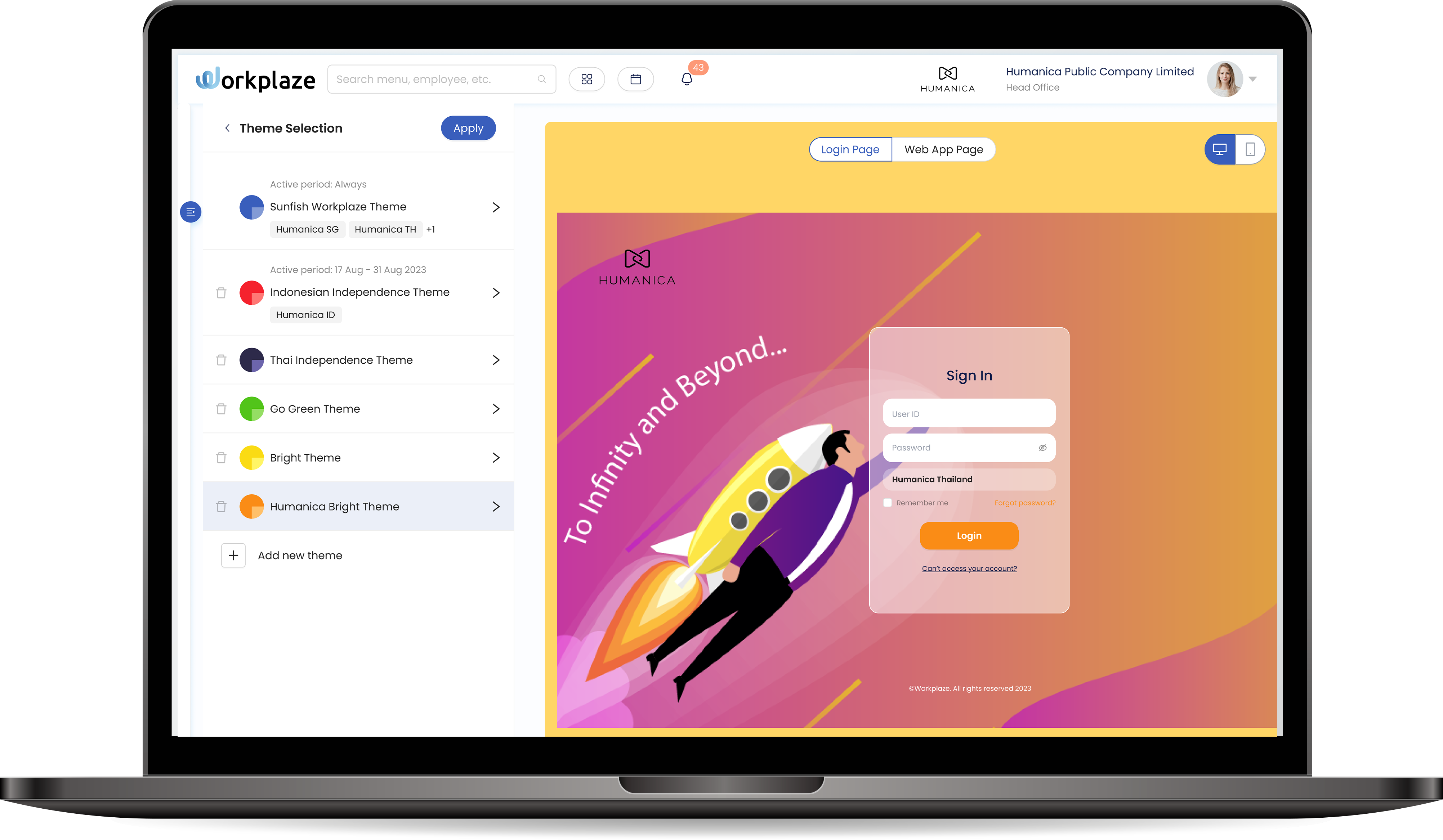 Realtime Customization –
Tailor It to Your Brand
The exciting new Workplaze feature of real-time customization empowers organizations to adjust our Workplaze HR platform in line with their brand guidelines, use of logo, and imagery. The new editor function provides an intuitive interface with which users can customize the layout, fields and buttons of existing forms throughout Workplaze as well as the system's login page. From playing with colors and fonts, to shifting design elements, to uploading the company logo and business relevant background images, the editor lets them make this HR platform a true reflection of the corporate identity. It's not just software; it's your software.
Recruitment Enhancements –
Take You Level up Your Hiring Process
Our updated Workplaze HR Recruitment module includes two bigger enhancements. Firstly, users can now conduct recorded video interviews with predefined questions that can easily be distributed to reviewers, which facilitates a structured and consistent interview process. And secondly, we have introduced a functionality to generate automated applicant assessment questions, saving you valuable time during the screening process.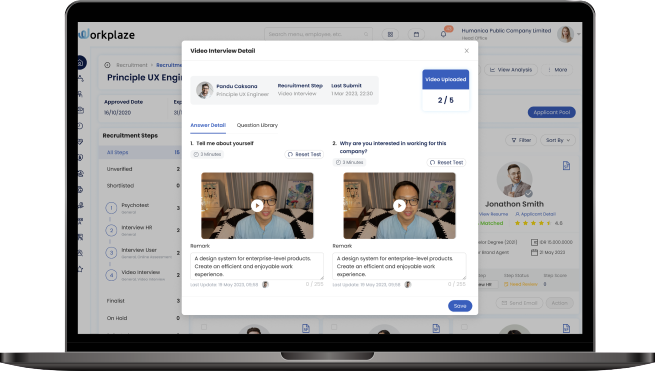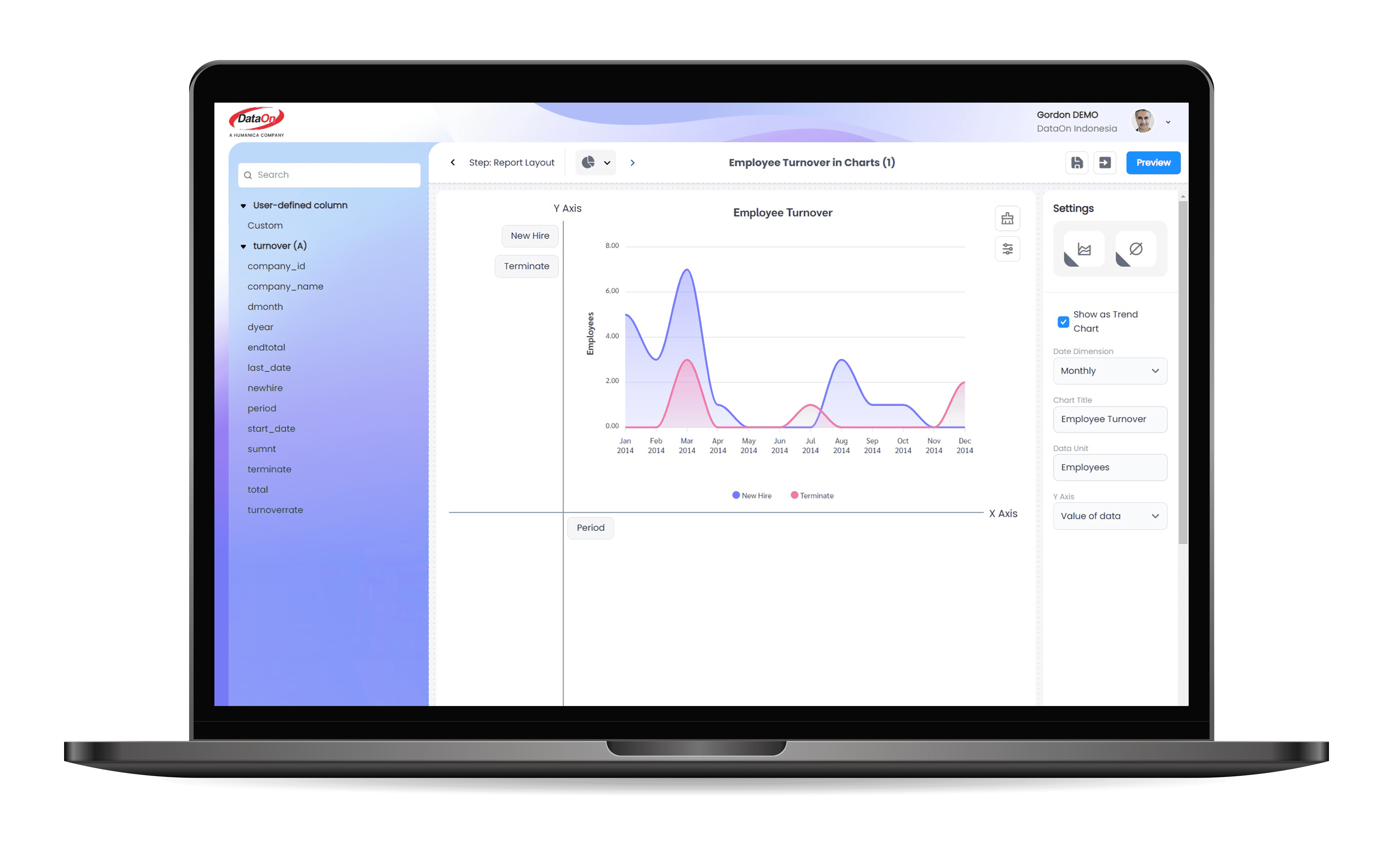 Reporting Enhancements –
Data-Driven Decision Making Made Easy
Because the ability to make informed decisions based on your company's data is crucial in HR, we now incorporate a new Graph Builder feature in our Workplaze Reporting capabilities. The Graph builder enables users to create interactive charts to visualize HR data, generate multiple reports simultaneously, and seamlessly distribute them. Moreover, HR teams can rely on brand new dashboards for a comprehensive overview of the HR landscape in their companies.
Artificial Intelligence – Unlock New Level of Productivity With AI
Artificial Intelligence is transforming HR, and Workplaze HR is launching its own game-changing AI features to unlock new levels of productivity, unparalleled data insight and a new digital employee experience. Workplaze's new AI capabilities are embedded throughout the whole platform and encompass five main categories:
Improved Validation – Reduce Errors, Improve Data Accuracy
One of the more fundamental enhancement categories relates to the fact that data accuracy is paramount in HR processes, which makes it no less important. In its latest version, we have implemented multiple Workplaze improvements related to validation aimed at further minimizing the risk of inaccurate data selection and ensuring that data entry is more reliable than ever. While there are many smaller updates, one that stands out is the OCR validation of documents such as driver's licenses, ID documents, emails and other document authenticity processes. Algorithms compare extracted data to benchmarks and flag discrepancies for human intervention improving the validation workflow for a better user experience.
Payroll Enhancements –
Efficient Payroll Management
Workplaze latest payroll enhancements further ease the complexity of this critical function. Users can now generate payroll simulations giving them an extra layer to ensure data accuracy and to streamline the process. Moreover, the latest version lets users define and customize statutory reports for any unsupported country effortlessly. It also introduces new functionalities to support regulations for the taxation of benefits in kind, ensuring continued compliance with evolving tax laws.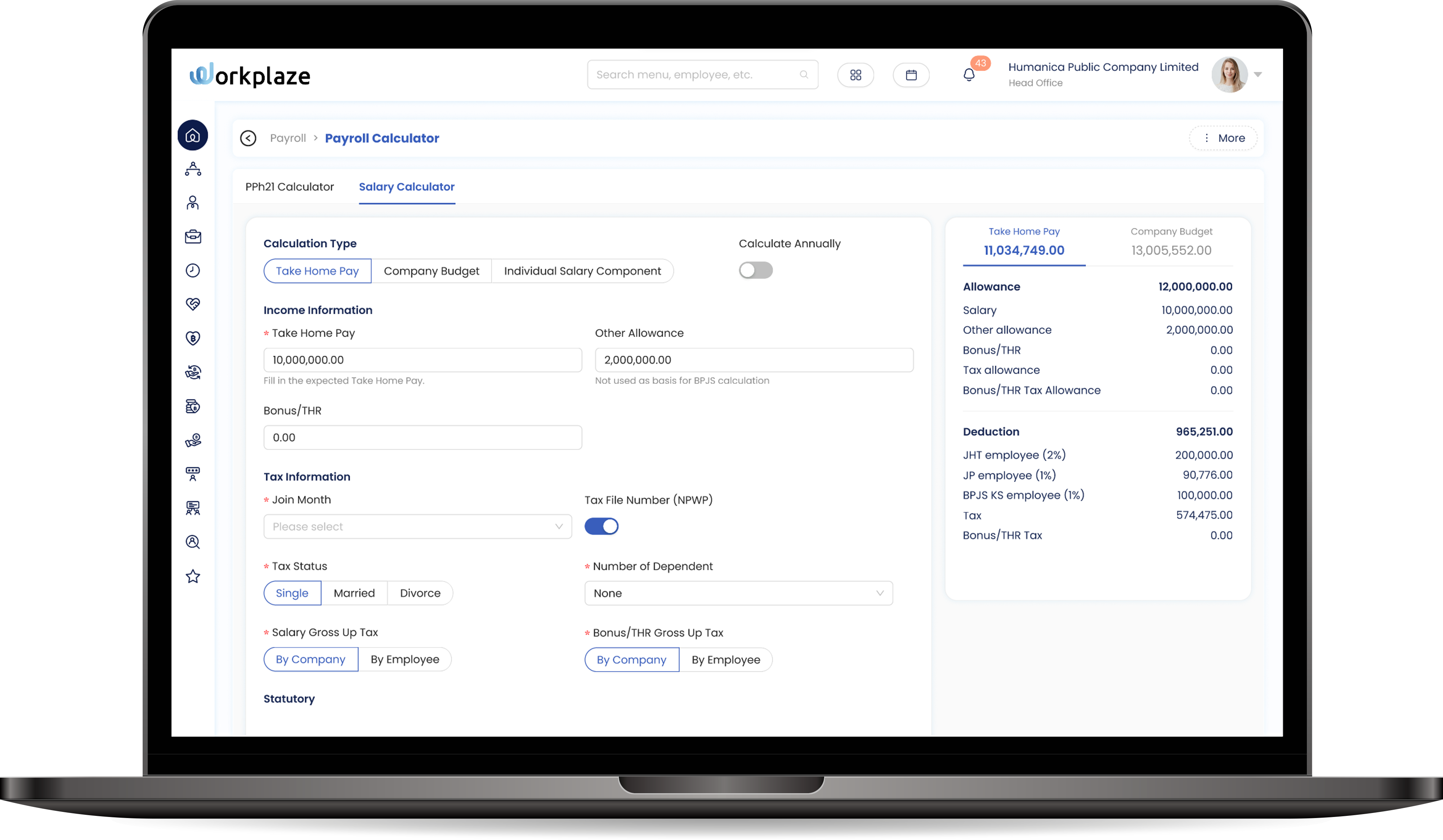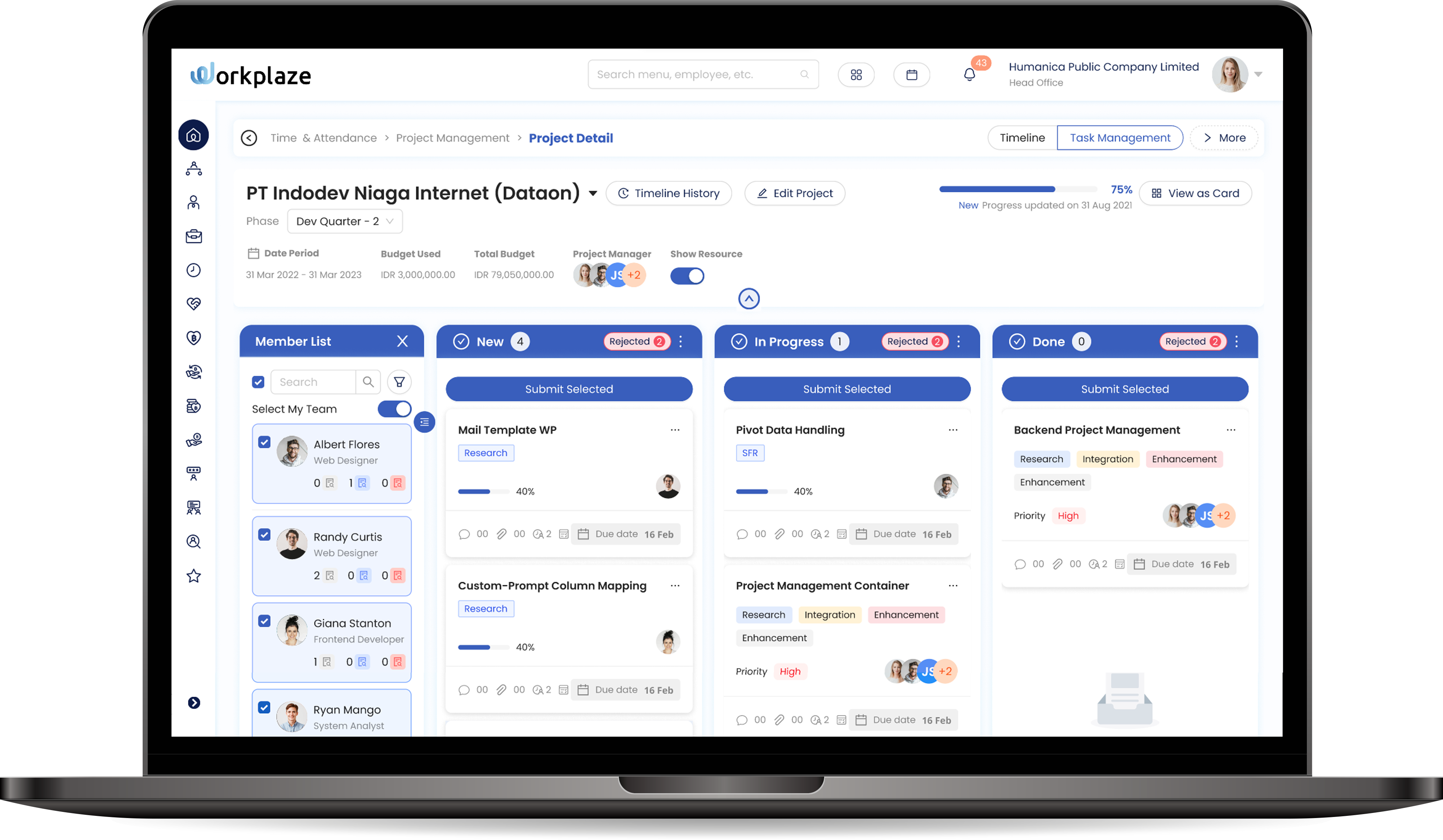 Project Management –
Keep Your Projects on Track
Workplaze's Project Management is experiencing an upgrade as well and adds advanced functions to organize and monitor your projects and timelines from multiple perspectives. Methods Spring, Waterfall and Kanban allow detailed tracking of tasks and assignments, to do lists, resource allocation, due dates, project budgets and costs so that you can meet your deadlines and project goals.
Maximize Productivity. Minimize Stress – The Workplaze Way.
With the employee experience becoming a more prevalent part in turnover reduction and productivity increase strategies, customers' expectations regarding their touchpoints with technology evolve as well. Humanica's latest Workplaze update is trying to meet organizations in that momentum by providing UI/ UX improvements that cater to the diverse needs of various user groups interacting with our HR system.
"From employees to managers to directors, our new and improved HR functionalities deliver tangible benefits to all types of system users in the way they experience their interaction with our platform"' says Gordon Enns, CTO of Humanica Group. "Humanica's commitment to empower employees with new, innovative solutions is evident in this latest Workplaze release where we continue to drive automation and deliver more intelligent ways to everyone to get work done effortlessly while increasing personalized interaction."
The new Workplaze enhancements have been released at the end of the third quarter of 2023. We will unveil our new, exciting AI features at our 13th Annual HR Conference on November 2, 2023 at the Tribrata Darmawangsa, South Jakarta and showcase how they elevate your HR experience. We expect rollouts to customers to begin at the start of the next year.
Further Information
About DataOn
DataOn is a leading provider of Enterprise Human Capital Management (HCM) software solutions. Our fully integrated platform SunFish Workplaze enables organizations of all sizes to manage their workforce efficiently and make data-driven decisions for sustainable success in the ever-evolving business landscape.