The customer
Company: PT Komatsu Indonesia was originally established as a joint venture between PT United Tractors (an authorized distributor of Komatsu products in Indonesia) and Komatsu Ltd. in Japan and has since developed into the leading manufacturer of construction and mining equipment in Indonesia. Their products include hydraulic excavators, bulldozers, off-highway dump trucks as well as frames, related components, and steel cast products. Under the global trademark of Komatsu, the company stands for high-quality and reliable products making it a reliable partner in Indonesia for any development in Mining, Forestry, Agro, and Construction business.
Key Achievements
Industry: Manufacturer of Heavy Equipment
Employees: 2.254 across multiple locations
Established: in 1982
Modules Used: since 2005
– HR Base
– Payroll
– Time & Attendance
Added Modules: in 2019
– Training
– Recruitment
– Performance
Becoming the leader the KOMATSU Way
Komatsu Indonesia's 41 year history of innovation and growth has been nothing but remarkable. Founded in 1982 through a joint venture between Komatsu Ltd and PT United Tractors, the company began by assembling components into finished units. Within a few years, Komatsu Indonesia released its first product D85A-18 bulldozer, increased its production capacity with a second plant, and began exporting components to Japan. Establishing its cross and multi-sourcing strategies and a new full-scale manufacturing facility comprising a complete machinery plant as well as components, strengthened Komatsu Indonesia's position as a world-wide supplier and partner.
Throughout their journey, Komatsu Indonesia has consistently expanded its portfolio of innovative, high-quality products while staying agile in response to market dynamics, all guided by their 'Continuous Improvement'- Principle. This principle extends to all aspects of their operation including customer service orientation and the management of their 2254 employees spread across Indonesia.
As a unique blend of Japanese and Indonesian cultures, Komatsu Indonesia places great value on discipline and hard work. Therefore, they emphasize communication, collaboration, skill development and work-life balance to empower their teams in performing in alignment with these values and the company's goals.
Empowering a sustainable future – The KOMATSU Way
Komatsu Indonesia credits its success to its highly skilled employees, whose commitment to quality and innovation is a driver of the company's strength from the get go. 'Creating highly motivated & capable employees' is one of Komatsu's three mission statements and they show that in the way they manage their people. Focused on talent developments, the company provides a dynamic and high-spirited workplace where plenty of opportunities to enhance skills, experiences and accomplishments can be found. With the help of innovative technologies their teams are given the tools to continuously improve their capacities with the ultimate goal of maintaining the company's top position in the industry.
Komatsu Indonesia has supported the management of its workforce with SunFish since 2005 which was in version 3 at that time. Back then the company was focused on headcount visibility, timely payroll, attendance tracking, simplified reporting to headquarters and training.
According to Miss Eva, the inefficiencies in these areas were Komatsu Indonesia's core pain points:
"Previously, every process in HR and Personnel flow, such as attendance, reimbursement, payroll, performance, and training were done conventionally and manually using MS Excel. We needed a lot of manpower to hasten the process."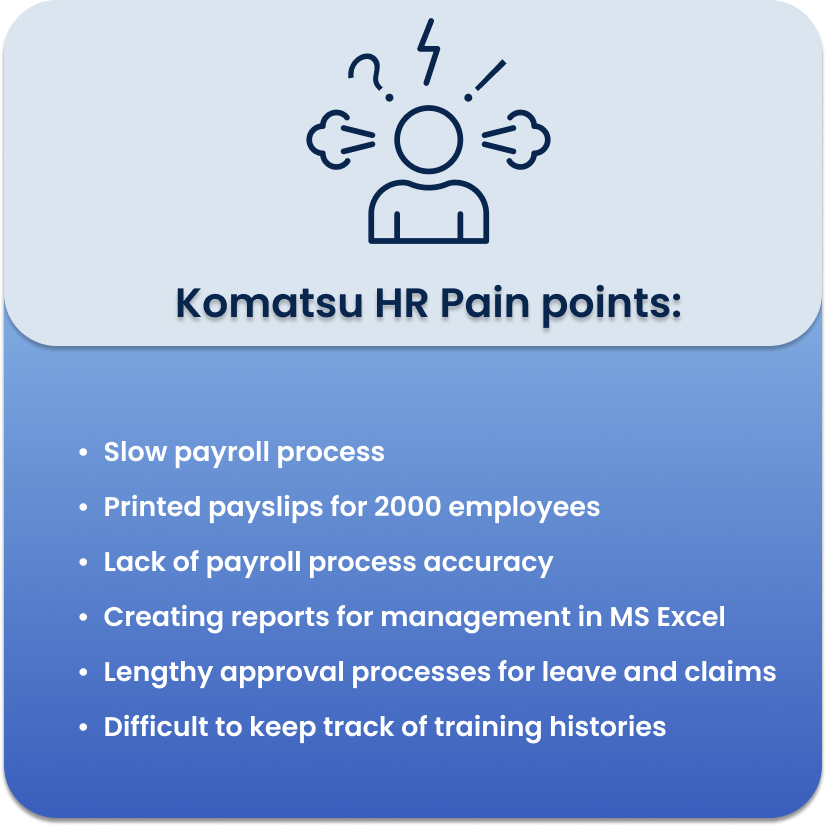 Recognized for its excellence in operations, Komatsu was designated as the center of operations for all of Indonesia in 2006. In that new function, the team had to provide HR shared services to five subsidiaries in multiple locations including managing their payroll. Having to adjust quickly to the responsibilities, the Komatsu Indonesia HR team upgraded to SunFish version 5 to support the new multi-company environment and shared service delivery model better. The HR team derived tremendous benefits from the automation of their HR including:
With SunFish, Komatsu Indonesia had found a solution that was an ideal match to their requirements then and was scalable to grow with them in the future. Thus, started a long-lasting partnership that is fruitful still today. As the company grew and changed over the years, so did SunFish to accommodate their journey.
The Pandemic as Catalyst for more Innovation
Everything was working smoothly and in-sync until the pandemic took hold of the world and upset work life as we knew it. Suddenly confronted with new regulations regarding work-from-home and work-from-office, Komatsu Indonesia's SunFish 5 attendance feature lacked the depth of functionality to track work-from-home work hours and the tasks employees were working on.
Following the Komatsu way, the company dealt with this new situation head on by innovating their HR once more. In 2020 Komatsu upgraded to the then latest version SunFish 6. In the latest upgrade, Komatsu Indonesia not only improved and deepened functionalities in the original core functions to track productivity better but also digitized more operational processes including reimbursement, performance and training. Moreover, it embraced the SunFish mobile app to provide the ultimate employee experience and implement the required WFH regulations.

The main gains of the new version were in the:
Maximizing the value of their back-end system
However, the biggest innovation was the adoption of the SunFish mobile app. With it, Komatsu Indonesia was able to provide its employees and managers an 'always-connected' work environment, allowing them to perform HR tasks, data lookup, information updates, various request submissions & approvals, time and activities recording fuss-free, anytime, anywhere real-time, on the go. This way, the company was able to adapt to the work-from-home situation, stay connected, monitor, and communicate throughout the challenging times.
Komatsu Indonesia's HR team also appreciates the dependable support from the DataOn team which has been very helpful in ensuring smooth operations and in addressing their queries, concerns and enhancement requests reliably and promptly.
Mrs. Eva concludes, "We're very happy with the SunFish team's HR solutions and support.SunFish is the only software system that can meet our needs, and we've been greatly assisted by both SunFish and their knowledgeable team."